Tom Ford Black Orchid - cologne review
- Complex and delicious, multi-layered fragrance - Orchids to new rubber tyres to rich, dark chocolate to honeydew melon: a feast for the senses - One of our favourites – so much more sophisticated than the average frag - Tom Ford Black Orchid is rated on
Amazon
with 4 stars: we think it's better than that! - Check the price on Scentbird
here
and eBay
here
We're an irreverent bunch here at Best Cologne for Men, but sometimes you encounter a fragrance so utterly excellent that the jokes stop: so ridiculously sumptuous that ridicule would be an insult.
And so it is with Tom Ford Black Orchid. Let us take you through the notes - almost musical - that we encountered in this superb fragrance.
To smell Tom Ford Black Orchid reminds us of Violet Beauregarde's test-chewing of Willy Wonka's experimental gum in Charlie and the Chocolate Factory: it's like a multi-course feast of flavours, but without the inconvenient bit at the end where you turn into a giant blueberry.
Black Orchid modulates from note to note in relative quick succession.
As the name suggests, at first your nose is wafted with a wave of orchid scents. This gives way fairly quickly to a sophisticated, bitter, woody scent, almost oudh-like to be frank, that just adds a layer of class of this fragrance. Further deep inhalation at this level allows your senses to discover that attractive (and weirdly addictive) industrial smell of fresh, new rubber tyres.
Just minutes later, the whimsical nature of Black Orchid is changing its story again. More changes as you move out of the Aquilaria forests of South-East Asia, out of the car workshop, and into the candy-store with seductive, rich, sugary, cocoa odours of dark chocolate.
Your nose at this point will be frolicking among these notes like a puppy-dog in a rubber-bone factory, and you'll be savouring the scents like a sommelier chugging a fine vintage wine. Suddenly, the idea of waxing lyrical over a mere perfume doesn't seem so pretentious any more.
The final words of this narrative are spoken by the humble honeydew melon: fresh, fruity, original, but never soapy or synthetic or obvious. All underpinned by the super-sweet undertones of those 'fruit salad'-flavoured penny chews (although we've never had a fruit salad that tasted like that) on which we would systematically rot our teeth as kids.
All in all, a gorgeous scent: it's just so much more of a sophisticated, multi-layered perfume than the others on the mainstream market. But then it is a creation of Tom Ford, a genius of the fashion world. At Best Cologne for Men, we are sceptical of the idea that just wearing the right cologne could genuinely influence someone's perception of you: but you know what? This one might just be the exception. Simply: buy it.
Advertising campaign
You know we love looking at advertising, but no videos this time, just plenty of sensual shots of female models. We all know that Tom Ford's perfumes are unisex, and so it makes a lot of sense to usethe semi-erotic photos you see below for the advertising campaign. The message is this: if you're a woman, you could be as sexy as these women if you wear Black Orchid; if you're a guy, maybe this kind of woman will go for you - if you wear Black Orchid.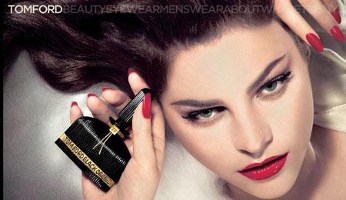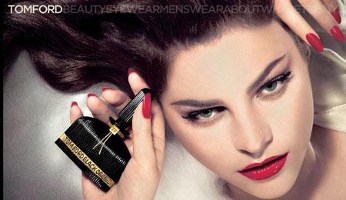 The first set features Tom Ford's friend, the French art director and model Julia Restoin Roitfeld. She lies on the bed, practically inviting the viewer to ravish her, her lips slightly parted in that stereotype erotic pose so popular in these kind of shoots (and used again by Cara Delevingne - see below). She fingers the bottle of Black Orchid absent-mindedly: the larger type of flask looks like a jutting, aroused nipple. All very erotic, but in an understated way.
Next up, the Polish model Zuzanna Bijoch.
Bit of a mixture of ideas going on here: the first image is of a very heavily made-up Bijoch as a kind of highly sexual vamp with dangerous bronze-red hair; the next image, Bijoch totally naked and vulnerable, her strawberry-milkshake skin offsetting the decadent purple background, her black eye-liner and her red hair, but hypnotising the viewer with her defiant glare; and then in the final shot, Bijoch has thrown something loose on (it's black, of course), but she's still got sex on the mind with a classic come-hither gaze, mesmerising the viewer with come-to-bed eyes. (Is it just us, or did it suddenly get a lot hotter in here?)
As an aside, and at the risk of sounding like the chauvinist pigs we probably are in the Best Cologne for Men team, it's a good thing Zuzanna's slapped on the makeup for the Black Orchid shoot because she doesn't always scrub up so brilliantly in our opinion...
Finally, the most recent campaign featuring beautiful and beetle-browed British stunner Cara Delevingne (she might be British, but she has a suitably sexy French-sounding surname...). Shades of Millais's painting of Shakespeare's Ophelia here, we would say, but in this case young Cara is very much alive, rather than dead like the Bard's heroine was.
Again, they've gone for the vampish black eyeliner as with Bijoch, not to mention black/dark purple fingernails, but this picture is very carefully and cleverly composed:
First, there are orchids scattered in the water (picking up on the purple chromatic theme from the earlier Bijoch shoot, and of course alluding to the fragrance's name).
Then, the angle of the shot and the lighting makes the water appear black, and yet the same lighting arrangements creates a glare on the shimmering water's surface that conceals Cara's nudity - very classy. Tom Ford isn't always so shy about naked bodies: just check out the camp water games of the Neroli Portofino ad campaign on the right-hand side
Of course, for all that concealment, we still get a satisfying eyeful of Cara's body, and again they have gone for the vulnerable, completely nude approach that we saw in the Bijoch shoot. And yes, let's be clear, as so often with splashes, foam, liquids and water in these fashion adverts, there is a sexual undertone, with Cara's body pearled in fluid like something out of a bukkake scene.
But back to the composition: to get that clean flesh tone to offset the blacks and purples, we all know someone's been busy photoshopping, right? Cara is notorious for her tattoos (for the full rundown look no further than this excellent page devoted to the subject), inking her body like a toddler let loose on a notepad with a ballpoint pen. It seems to be the fashion these days that if you have been blessed with great skin and a great body, you should just vandalise yourself (just compare Nick Youngquest). And yet here is Clara, totally and improbably clear-skinned: but in fairness, that is vital to the composition of this photograph, which demands clear, pale shades against the black and purples. All exceedingly cleverly balanced, quite technical, and yet gloriously erotic at the same time.
Final comment, apropos of nothing at all: is it just us, but doesn't Cara Delevingne look like the minor Australian actress Isabel Lucas? Must be the caterpillar eyebrow thing going on... why is it so attractive? Gratuitous model shots on the right again for your viewing pleasure.
Overall rating: an irresistible 9.5 out of 10 (well, we just don't award '10 out of 10's on principle...).
What now? -
Did you like our article? Please share it!